The Hitcham and Taplow Society produces colourful newsletters each spring and autumn to keep the community informed about our past, present and future. They feature stories of local 'hot topics' and heritage, people and events, all illustrated with photographs and maps. Retailing at £3.50, newsletters are free to HTS members.
Our newsletter archive dates from 1960. Back copies are gradually being made available to view online. Pull up a chair, grab a cuppa and scroll through this valuable historical recollection of the evolving life and times of Taplow and Hitcham.
Our editor is always on the lookout for news and views to publish in the next issue. If you would like to write a piece, or have an idea for an article, please contact us at editor@taplowsociety.org.uk
Newsletters normally appear on the web a few weeks after the paper copy has been distributed to members. Here are the most recent issues: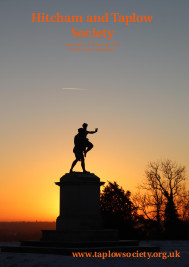 Newsletter 119: Spring 2023
Newsletter 118: Autumn 2022
Newsletter 117: Spring 2022
Newsletter 116: autumn 2021
Newsletter 115: spring 2021
Newsletter 114: Autumn 2020
Newsletter 113: Spring 2020
Newsletter 112: Autumn 2019
Newsletter 111 – Spring 2019
Newsletter 110: Autumn 2018
Newsletter 109: Spring 2018
Older issues can be found on the Newsletter Archive page.