When You're Smiler
by Nigel Smales is the story of his father Eddy, Sgt 'Smiler' Smales, one of the original cine-cameramen in the Army Film & Photographic Unit (AFPU) covering the World War Two campaigns in North Africa (1942-1943) and from Normandy to Berlin (1944-1945).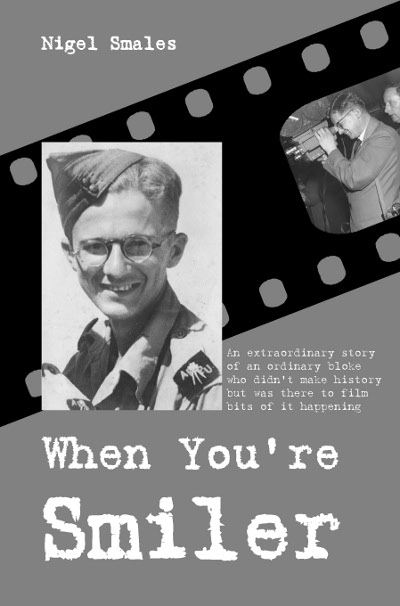 Desert Victory
, the most famous battle film of all time, was the achievement of 'Smiler' and his colleagues. Filmed in great danger behind the enemy lines, the world was thrilled by the sight and sound of the bagpipes of the Highland Regiments marching through the El Alamein artillery barrage to lead the Eighth Army against the once-thought-to-be 'invincible' Rommel to the turning-point victory of World War Two. A true commemoration, it combines a selection of their stories together with an extraordinarily well-researched record of the 400-plus men (and two women) who served in the AFPU.
When You're Smiler
is a long-overdue tribute to that forgotten band of heroes. The primary focus is on his career with the British Army File and Photographic Unit but Eddy Smales was one of the founding pioneers in cine-photography working in feature films (1936-53), Movietone newsreel (1946-55) and BBC TV News (1955-80), and the book provides an entertaining and fascinating perspective on the rapid evolution of factual film and television in the mid-twentieth century. There are tales of historic films including
Whisky Galore
,
Brighton Rock
,
The Third Man
and
The Lavender Hill Mob
, and newsreels covering royal weddings, funerals and coronations and four famous British 'firsts' – the first jet airliner, Comet 4, the first supersonic passenger jet, Concorde, the first motorway, the M1, and the first cross-Channel hovercraft - illustrated with 83 photographs. It tells an extraordinary story of an ordinary bloke who didn't make history but was there to film bits of it happening. A long-time member of the Hitcham and Taplow Society, Nigel Smales lives with his wife Caroline and daughter Keira in Rectory Road. He researched and arranged a lavishly illustrated display 'All Our Yesterdays' for the Taplow Heritage Exhibition in 2009 and he expanded the histories behind the houses in a talk to the Society AGM in 2010.
When You're Smiler
can be ordered online at www.lulu.com for £16.99 plus postage and packaging. Karl Lawrence