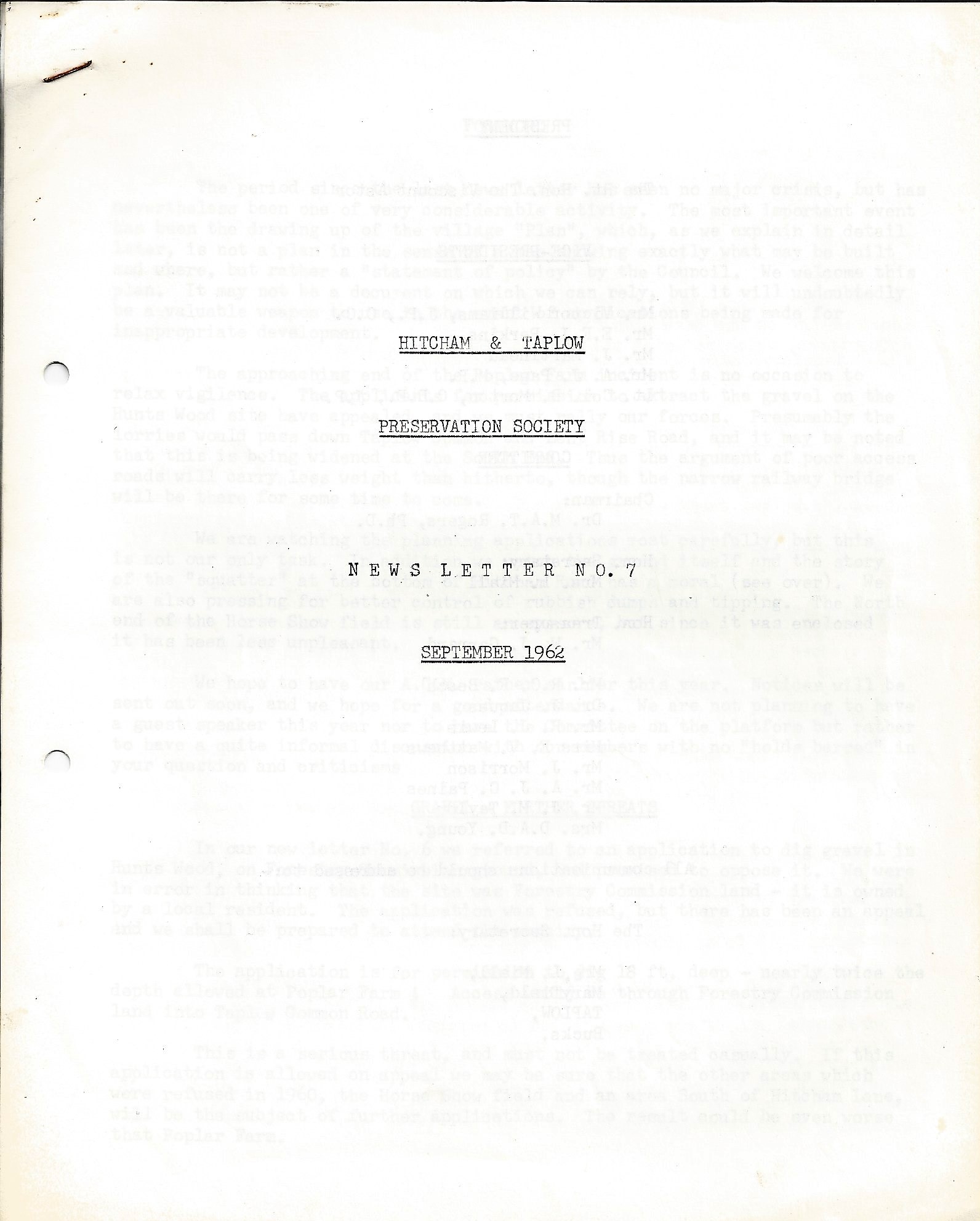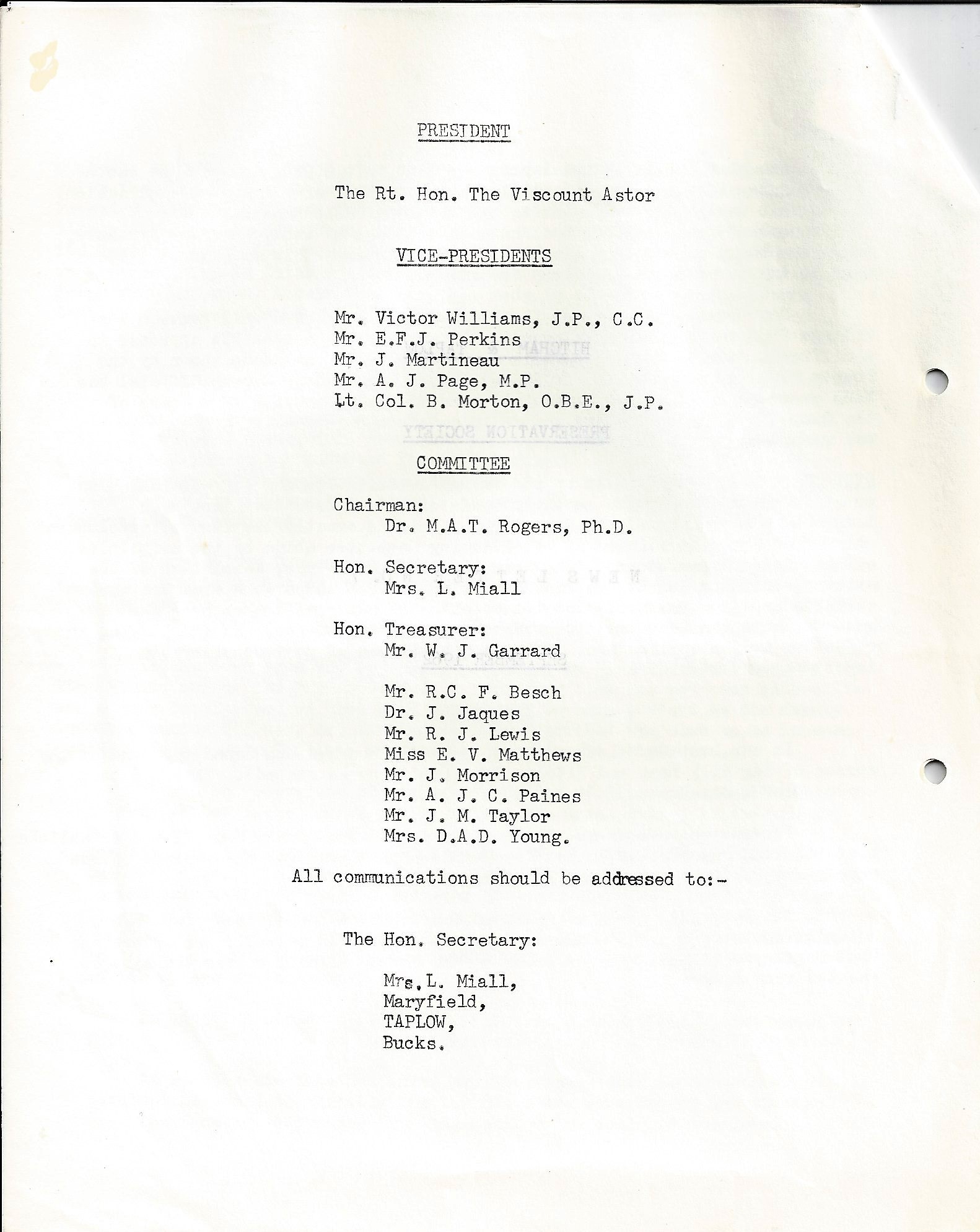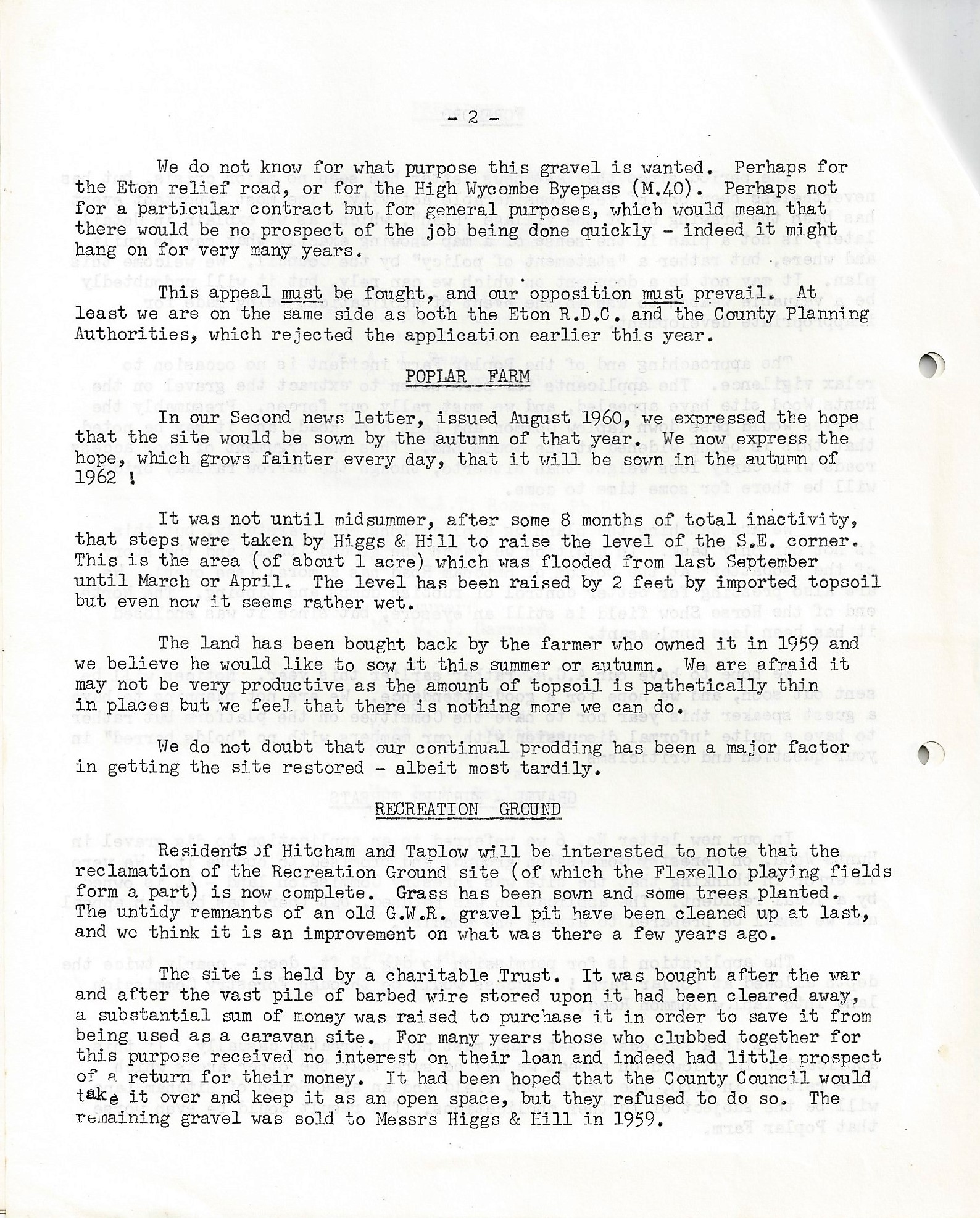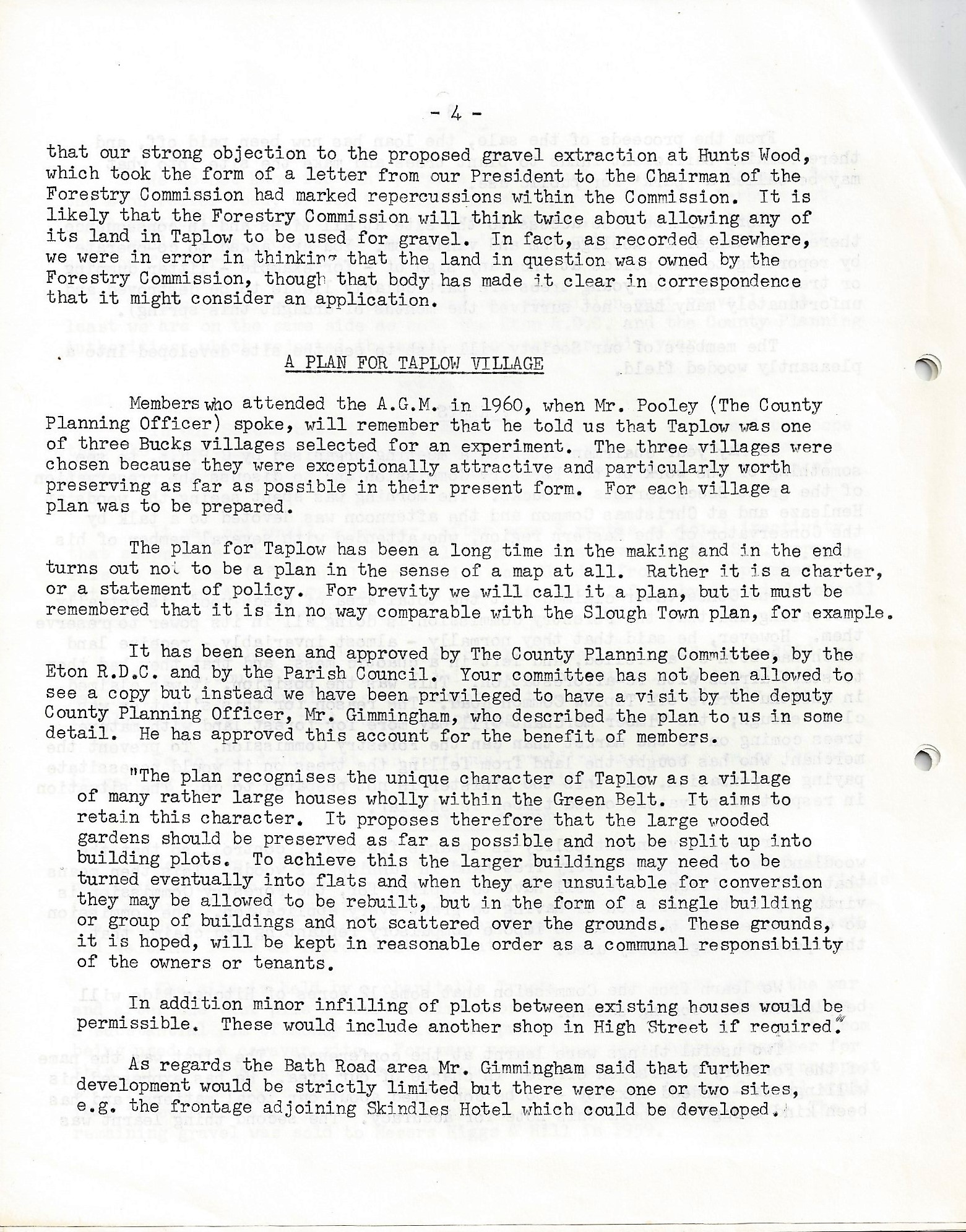 HITCHAM & TAPLOW
PRESERVATION SOCIETY
N E W S L E T T E R N O. 7
SEPTEMBER 1962
PRESIDENT
The Rt. Hon. The Viscount Astor
VICE-PRESIDENTS
Mr. Victor Williams, J.P., C.C.
Mr. E.F.J. Perkins
Mr. J. Martineau
Mr. A.J. Page, M.P.
Lt. Col. B. Morton, 0.B.E., J.P.
COMMITTEE
Chairman:
Dr. M.A.T. Rogers, Ph.D.
Hon. Secretary:
Mrs. L. Miall
Hon. Treasurer:
Mr. W.J. Garrard
Mr. R. C. F. Besch
Dr. H. Jaques
Mr. R.J. Lewis
Miss E.V. Matthews
Mr. J.Morrison
Mr. A.J.C. Paines
Mr. J.M. Taylor
Mrs. D.A.D. Young
All communications should be addressed to:—
The Hon. Secretary:
Mrs L. Miall,
Maryfield,
TAPLOW,
Bucks.
FOREWORD
The period since the last news letter has seen no major crisis, but has nevertheless been one of very considerable activity. The most important event has been the drawing up of the village "Plan", which, as we explain in detail later, is not a plan in the sense of a map showing exactly what may be built and where, but rather a "statement of policy" by the Council. We welcome this plan. It may not be a document on which we can rely, but it will undoubtedly be a valuable weapon to use in the event of applications being made for inappropriate development.
The approaching and of the Poplar Farm incident is no occasion to relax vigilence. The applicants for permission to extract the gravel on the Hunts Wood site have appealed, and we must rally our forces. Presumably the lorries would pass down Taplow Common and Lent Rise Road, and it may be noted that this is being widened at the South End. Thus the argument of poor access roads will carry less weight than hitherto, though the narrow railway bridge will be there for some time to come.
We are watching the planning applications most carefully, but this is not our only task. In addition we watch the ground itself and the story of the "squatter" at the bottom of Hitcham Road has a moral (see over). We are also pressing for better control of rubbish dumps and tipping. The North end of the Horse Show field is still an eyesore, but since it was enclosed it has been less unpleasant.
We hope to have our A.G.M. rather earlier this year. Notices will be sent out soon, and we hope for a good attendance. We are not planning to have a guest speaker this year nor to have the Committee on the platform but rather to have a quite informal discussion with our members with no "holds barred" in your question and criticisms
GRAVEL : FURTHER THREATS
In our new letter No. 6 we referred to an application to dig gravel in Hunts Wood, on Forestry Commission ground, and promised to oppose it. We were in error in thinking that the site was Forestry Commission land — it is owned by a local resident. The application was refused, but there has been an appeal and we shall be prepared to attend the enquiry.
The application is for permission to dig 18 ft. deep — nearly twice the depth allowed at Poplar Farm & Access would be through Forestry Commission land into Taplow Common Road.
This is a serious threat, and must not be treated casually. If this application is allowed on appeal we may be sure that the other areas which were refused in 1960, the Horse Show field and an area South of Hitcham Lane, will be the subject of further applications. The result could be even worse that Poplar Farm.
We do not know for what purpose this gravel is wanted. Perhaps for the Eton relief road, or for the High Wycombe Byepass (M.40). Perhaps not for a particular contract but for general purposes, which would mean that there would be no prospect of the job being done quickly – indeed it might hang on for very many years1
This appeal must be fought, and our opposition must prevail At least we are on the same side as both the Eton R. D .C. and the County Planning Authorities, which rejected the application earlier this year.
POPLAR FARM
In our Second news letter, issued August 1960, we expressed the hope that the site would be sown by the autumn of that year. We now express the hope, which grows fainter every day, that it will be sown in the autumn of 1962!
It was not until midsummer, after some 8 months of total inactivity, that steps were taken by Higgs & Hill to raise the level of the S.E. corner. This is the area (of about 1 acre) which was flooded from last September until March or April. The level has been raised by 2 feet by imported topsoil but even now it seems rather wet.
The land has been bought back by the farmer who owned it in 1959 and we believe he would like to sow it this summer or autumn. We are afraid it may not be very productive as the amount of topsoil is pathetically thin in places but we feel that there is nothing more we Can do.
We do not doubt that our continual prodding has been a major factor in getting the site restored — albeit most tardily.
RECREATION GROUND
Residents of Hitcham and Taplow will be interested to note that the reclamation of the Recreation Ground site (of which the Flexello playing fields form a part) is now complete. Grass has been sown and some trees planted. The untidy remnants of an old G.W.R. gravel pit have been cleaned up at last, and we think it is an improvement on what was there a few years ago.
The site is held by a charitable Trust. It was bought after the war and after the vast pile of barbed wire stored upon it had been cleared away, a substantial sum of money was raised to purchase it in order to save it from being used as a caravan site. For many years those who clubbed together for this purpose received no interest on their loan and indeed had little prospect of a return for their money. It had been hoped that the County Council would take it over and keep it as an open space, but they refused to do so. The remaining gravel was sold to Messrs Higgs & Hill in 1959.
From the proceeds of the sale, the loan has now been paid off, and there remains sufficient funds to plant trees and make the site into what may be called a 'park' for public use.
There will be free access to the site at all times and in consequence there is a danger of hooliganism and vandalism. You are asked to co—operate by reporting to the police at once any sign of — for example — litter dumping or tree breaking (the young trees are particularly liable to be destroyed and unfortunately many have not survived the months of drought this spring).
The members of our Society will wish to see the site developed into a pleasantly wooded field.
FORESTS
In May your chairman attended a meeting organised by C.P.R.E. to see something of the work of the Forestry Commission and to discuss the preservation of the great Beech forests of Bucks. The morning was spent seeing the woods at Henleaze and at Christmas Common and the afternoon was devoted to a talk by the Conservator of the Eastern region, who attended with several member of his staff.
The Conservator claimed that the total area of beech woods is actually increasing and that the Forestry Commission is doing all in its power toIreserve them} However, he said that they normally – almost invariably — receive land which had been clear—felled, and left in a chaotic mess, and that they had then to start afresh with re—afforestation. This was the position, it was claimed, in Chestnut Drive off Taplow Common Road. The reason for this situation was clear enough; the timber merchant will pay more for forest land with mature trees coming on to the market than can the Forestry Commission. To prevent the merchant who has bought the land from felling the trees on it would necessitate paying compensation, and this the Minister is not prepared to do. The situation in respect of privately owned timber is similar.
Present Government policy is towards freedom of control, so that the woodland owner is given a very free hand in running his woods. This then means that although licences to fell have to applied for, the Forestry Commission is virtually in the position of having to grant every application. The Commission do of course have the power to impose compulsory replanting and claims that this power is vigorously used.
We learn from the Commission that some 12 acres of Hitcham Ride will be planted this coming season.
Two useful things were learnt at the conference. The first was the name of the Forestry Commission Officer in charge of our area. He has expressed his willingness — indeed anxiety — to be consulted about our local matters, and has been kind enough to check this note for accuracy. The second thing learnt was that our strong objection to the proposed gravel extraction at Hunts Wood, which took the form of a letter from our President to the Chairman of the Forestry Commission had marked repercussions within the Commission. It is likely that the Forestry Commission will think twice about allowing any of its land in Taplow to be used for gravel. In fact, as recorded elsewhere, we were in error in thinking that the land in question was owned by the Forestry Commission, though that body has made it clear in correspondence that it might consider an application.
A PLAN FOR TAPLOW VILLAGE
Members who attended the A.G.M. in 1960, when Mr. Pooley (The County Planning Officer) spoke, will remember that he told us that Taplow was one of three Bucks villages selected for an experiment. The three villages were chosen because they were exceptionally attractive and particularly worth preserving as far as possible in their present form. For each village a plan was to be prepared.
The plan for Taplow has been a long time in the making and in the and turns out not to be a plan in the sense of a map at all. Rather it is a charter, or a statement of policy. For brevity we will call it a plan, but it must be remembered that it is in no way comparable with the Slough Town plan, for example.
It has been seen and approved by The County Planning Committee, by the Eton R.D.C. and by the Parish Council. Your committee has not been allowed to see a copy but instead we have been privileged to have a visit by the deputy County Planning Officer, Mr. Gimmingham, who described the plan to us in some detail. He has approved this account for the benefit of members.
"The plan recognises the unique character of Taplow as a Village of many rather large houses wholly within the Green Belt. It aims to retain this character. It proposes therefore that the large wooded gardens should be preserved as far as possible and not be split up into building plots. To achieve this the larger buildings may need to be turned eventually into flats and when they are unsuitable for conversion they may be allowed to be rebuilt, but in the form of a single building or group of buildings and not scattered over the grounds. These grounds, it is hoped, will be kept in reasonable order as a communal responsibility of the owners or tenants.
In addition minor infilling of plots between existing houses would be permissible. These would include another shop in High Street if reouiredf
As regards the Bath Road area Mr. Gimmingham said that further development would be strictly limited but there were one or two sites, e.g. the frontage adjoining Skindles Hotel which could be developed.
The plan had no official status as yet. It might, however, be quoted at an Enquiry if there was an appeal against refusal of a planning application, and in that way would be brought to the notice of 'The Minister'. If "The Minister" upheld the refusal he might, either by implication or directly, recognise the plan and thus give it official status. This is thought better than to try to obtain recognition for it now.
Your Committee welcomes the Plan, whiCh we believe will protect the village frcm undesirable development. It seems to us a sensible approach to a difficult problem and we are much encouraged by the attitude shown by the County Planning Department. It is noteworthy that a busy County Official has been prepared to devote an evening to come to Taplow to talk to members of the Committee of your society and we take this opportunity to acknowledge our gratitude to Mr. Gimmingham.
§TOP PRESS: An application by the Fairey Aviation Company for permission to erect 12 flats and garages on the grounds of "The Priory" has just been lodged at the offices of the Eton R.D.C. This is exactly the kind of development which should not be allowed if the Planning Committee abide by the principles of the plan. Conversion of "The Priory" into flats — yes; demolition of the existing building and its replacement by another of comparable area but more suitable design — perhaps. But the erection of numerous houses over the gardens, with the inevitable destruction of the trees — no. We are lodging an objection to the application. This is a test case of very considerable importance and significance to Taplow.
ENCLOSURES
In our last News Letter (No.6. page 4) we asked who owned the land at the corner of Hag Hill Lane and Hitcham Road (not Lane as stated). This had been enclosed by a developer.
The answer came to us within a few days. The County Council had established that the land had been given to "The People of Hitcham" for the storage of road repair materials, — it was, in fact, Common Land.
The County Council is taking action to evict the encloser, who has actually enclosed some of the road repairing materials as well. We understand that legal proceedings will be taken by the County Council unless the site is vacated very soon.